Okay, this is a tutorial for people that DOESN'T know how to inject Dlls (Dynamic Link Library).
~~~Requirements~~~
1. A DLL Injector , I will provide you with winject (Note that you can use other injectors as well but this is more simpler.
Winject.rar
2. Your DLL you want to inject.
~~~Step 1~~~
Download the Injector and have your DLL you want to inject
~~~Step 2~~~
Turn on maple but do not go to the login screen.
It should be where it is a rectangle box ish and button on bottom right saying "Start Game"
~~~Step 3~~~
Extract the files then open Winject,
run as administrator if you are using vista.
Winject
should look like this:
~~~Step 4~~~
In the first category box, it will say "Target Process". Click the arrow button that is pointing downwards and look for "MapleStory.exe"
[In my pic, it says "tracking.." instead of "target process", dont worry about that]
~~~Step 5~~~
Below that, there will be a category named "DLL to inject". Go to the right and click the button "[...]" and browse for your DLL file.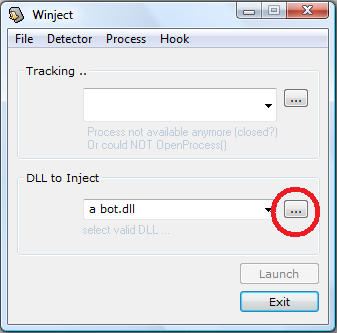 After you have done that, click inject.
~~~Step 6~~~
Once the trainer/bot pops up, close Winject and press "Start Game" and go in Maple Story.
FAQ
Q: Why doesn't the hack show when I inject it?
A: Make a second copy of the hack so you have 2 and then inject both. Second injection will make the hack show up.